Anilao Critter Spottings
Bearded Goby!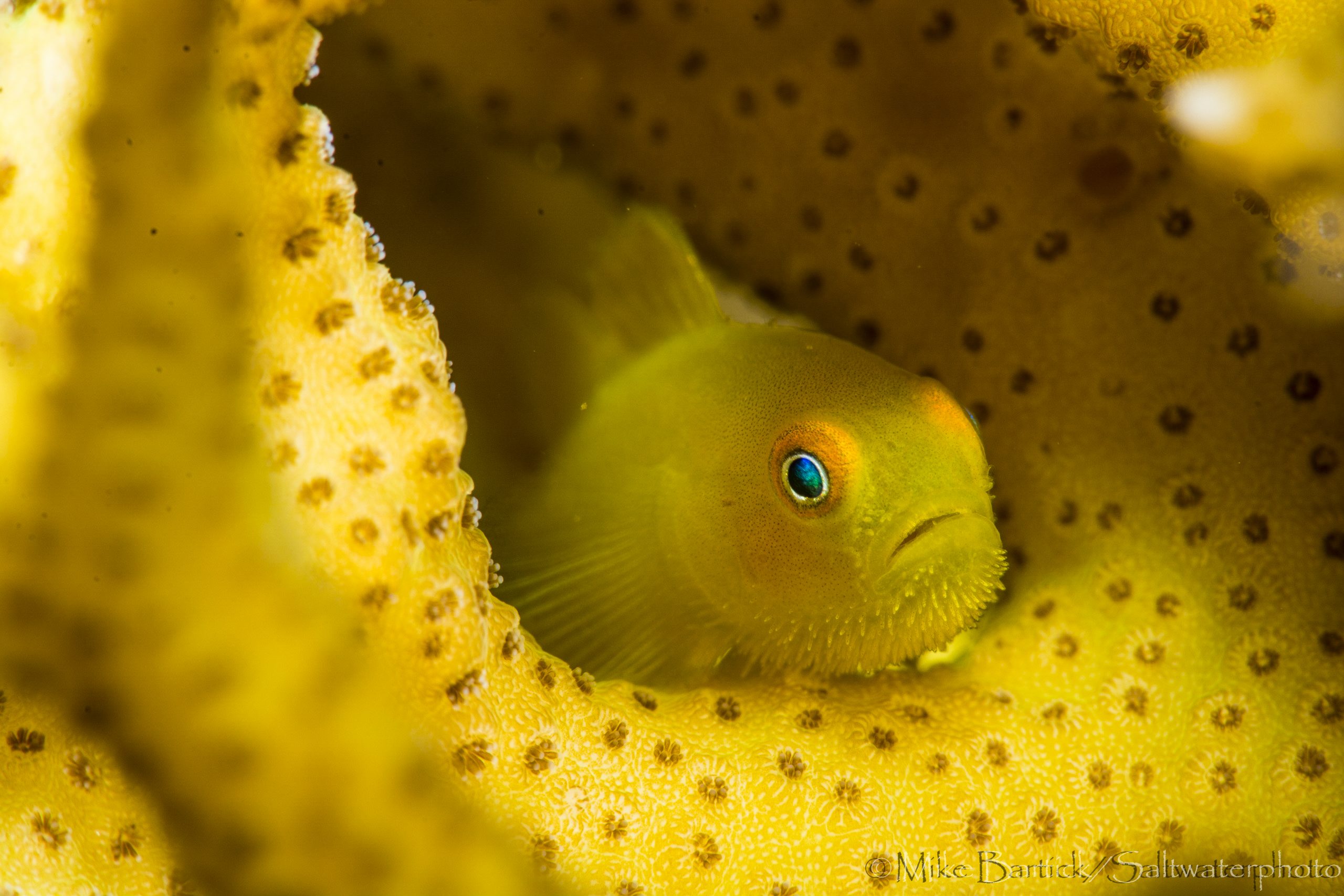 Cute macro wins contests!

Critter Corner: Bearded Goby

In early January we found a small colony of Bearded Gobies sharing them with guests throughout the season, talk about cute! Three varieties have been found so far, if you haven't seen a bearded goby yet, your really missing out on something special .  These small coral dwelling gobys are very easily overlooked as most people swim right over them without ever knowing they exist.
 

Critter: Bearded Goby (Lubricogobius exiguous)
Color: Yellow-green, Brownish
Size: less than 3 centimeters / 1 inch and smaller
Habitat: Specific Acropora corals
Food Source: Carnivorous opportunity feeders
Photo Tip: 100/105 Macro lenses with + 10 diopters or better
Lighting tip: Single strobe directly over the lens port-lowered power

Cute is the first word that I can find that best describes these fuzzy little Goby's. They make their homes in specific branching Acropora coral sharing each coral head with at least one other goby (male-female) and/or partner crabs.
The name comes from their fuzzy chin which actually resembles the small arms of the corals used to feed. Its speculated that the "Beard" is also used to trap food particles that drift through the coral heads on the moving current. These Gobys never leave the coral head to hunt and although they are considered to be carnivores, they rely solely on this passive method for feeding.
Like other Gobys, they are very timid and flighty and don't play well with photographers. Finding the right coral head and setting up your shot is the only way to photograph. Waiting and timing are everything as you will soon find yourself pleading and praying, waiting for the goby to work its way into the frame or to stay in the frame. Please be cautious of the coral heads and try not to break or damage the fragile coral when shooting photos of the Gobys. 

 Mike Bartick
Crystal Blue-Photo Pro 

Adapted for the exclusive use of Crystal Blue resort and Website. Not for any other use without the exclusive permission from Mike Bartick and Crystal Blue Resort.
All content of this article photos and script herein are owned and copyrighted by Mike Bartick- Saltwaterphoto.com


Get your macro on!!
Rhinopias of Anilao
The Rhinopia is without a question the undisputed king, top of the Holy Grail List critter find in the world and we have them here in Anilao, the trick is finding them. There is no real season to finding them but when they do turn up you can almost feel the excitement sweep through the local community.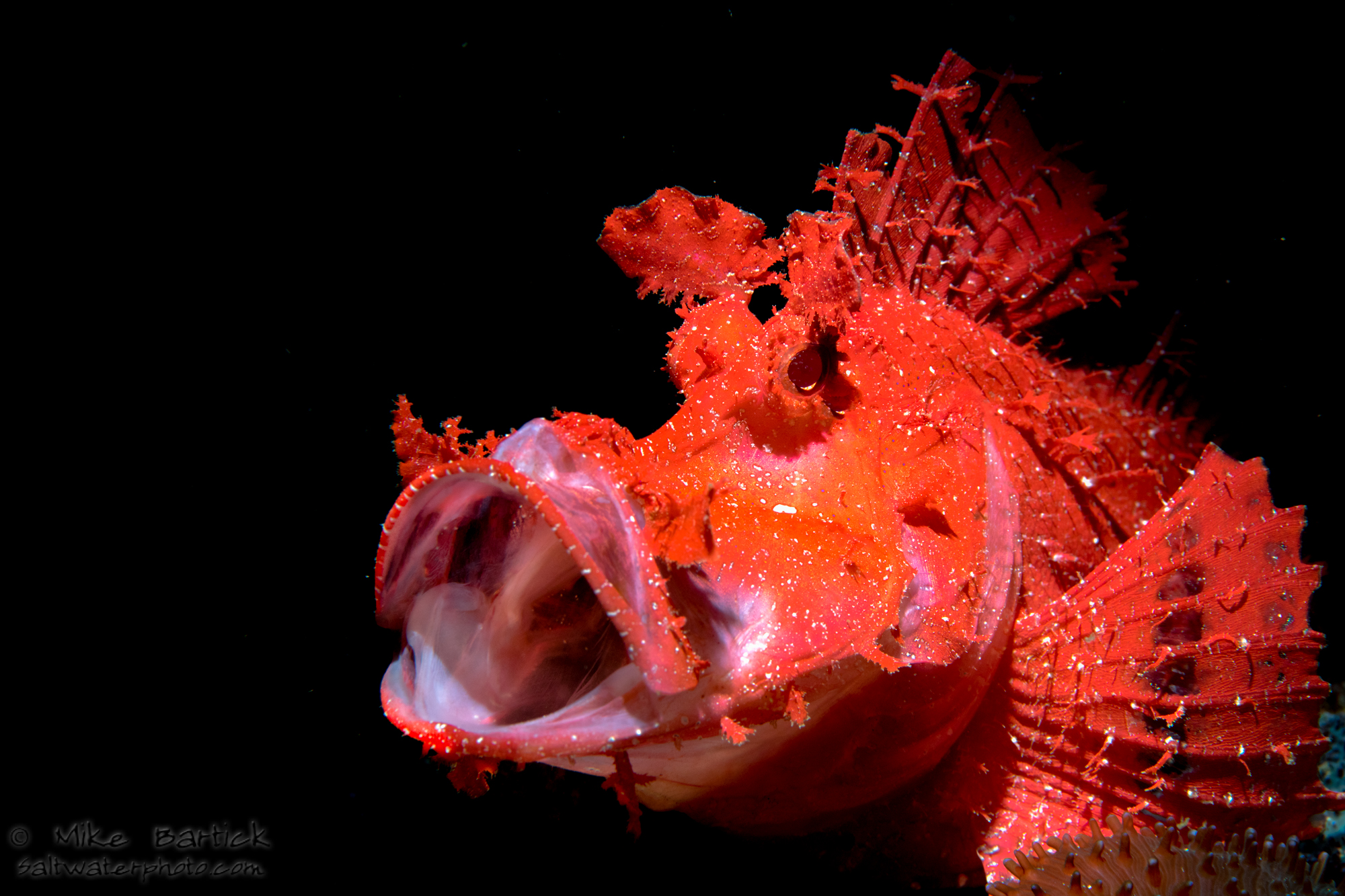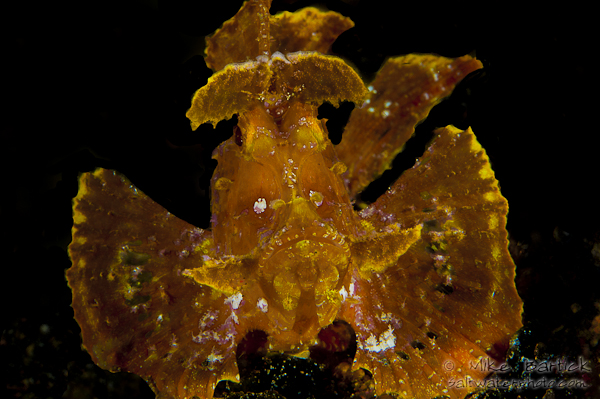 Rhinopia eschmeyeri
 Found in depths ranging from 3 - 40 meters on seaward facing slopes and most active just before a current change. The Rhinopias frondosa are commonly found with the R. eschmeyeri.
Rhinopias eschmeyeri (purple variety)

The purple R. eschmeyeri is  amazingly beautiful and a gaudy for sure. Despite the bright coloration they remain cryptic and very difficult to see. The large paddle flap eye brows conceal its ever watching glare while the white decoy eye spot distracts its prey as well as it distracts the viewers eye.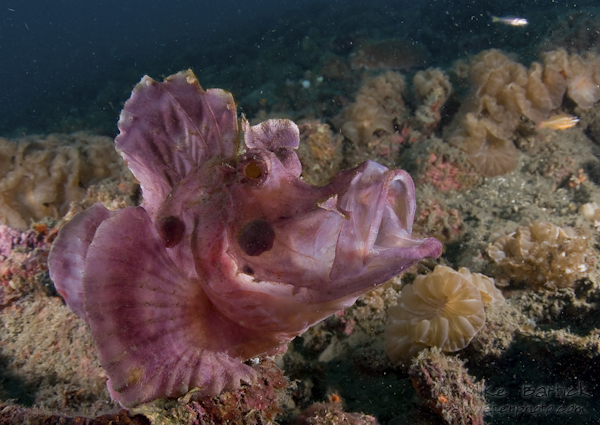 Rhinopias eschmeyeri (Smooth purple)


Gape strike feeders like the Rhinopia excite their victims into the strike zone while expending very little energy. They Rhinopia will only leave the bottom in extreme circumstances spending their entire life-cycle on the substrate.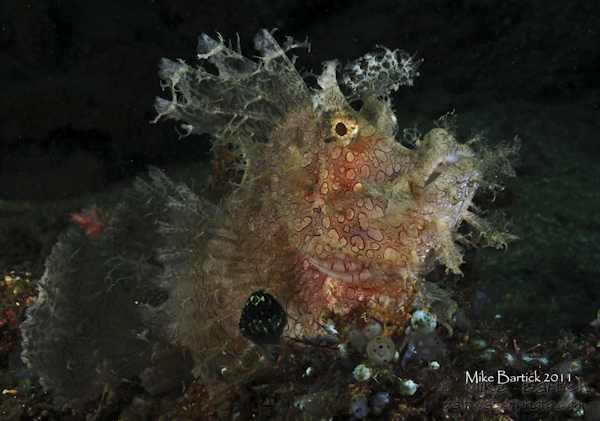 Rhinopias frondosa
The R frondosa  is not only colorful but has an intricate mottled color pattern on its skin, along with skin tags and appendages. This creature is so amazingly beautiful that its nearly impossible to swim away from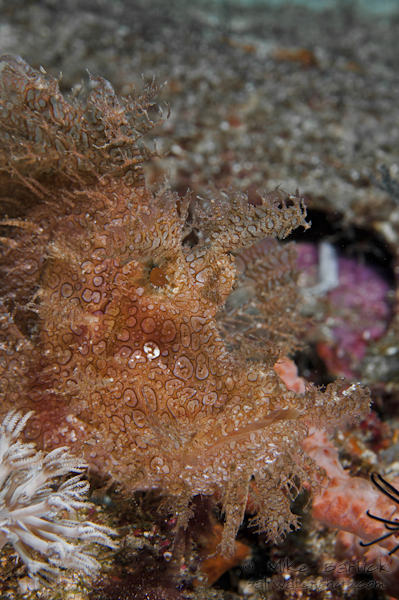 Rhinopias frondosa
Join us at Crystal Blue Resort and learn the Natural History of these amazing critters and many others as we guide you through the odyssey of Anilao....


Let your adventure begin here..
Adapted for Crystal Blue Website and not for any other use without the exclusive permission from Mike Bartick, Sport Diver/Bonnier Cooperation and Crystal Blue Resort. All content of this article photos and script herein are owned and copyrighted by Mike Bartick- Saltwaterphoto.com
Blue Ring Octopus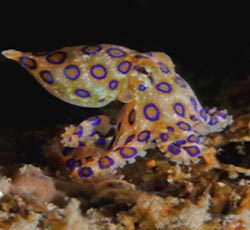 Did you know? The blue ringed octopus is perhaps the worlds most poisonous cephlapod. However these dangerous sea creatures are both timid and photogenic and have been pursued by many photographers worldwide. Their vibrant blue spots begin to glow when this critter feels threatened, flushing and fading over and over until the perceived threat disappears. BRO's love rocky outcroppings and reef structure to live and hunt, they are a small creature that blends well with all manner of reef life. Once found the coveted Blue Ring makes a superb photo subject.
Tetrodotoxin or TTX is a potent neuortoxin produced by a symbiotic bacteria that resides within the Blue ring octopus. The poisonous TTX potion is transmitted through its saliva as a result of a bite.
BROs arent aggressive towards humans but extreme caution should be excersized when photographing them. Touching the skin tissue can also transmit the TTX although not enough to be fatal. TTX is also found in many other organisms such as Pufferfish, Mola-Mola Triggerfish and some tunicates, certain crabs and more.
TTX is 100 times more deadly then Potassium cyanide.
Let your adventure begin here..
Adapted for Crystal Blue Website and not for any other use without the exclusive permission from Mike Bartick, Sport Diver/Bonnier Cooperation and Crystal Blue Resort. All content of this article photos and script herein are owned and copyrighted by Mike Bartick- Saltwaterphoto.com