Crystal Blue's Dive Locker

Crystal blues dive locker is second to none. The pebble stone dive deck over looks the clear blue waters where the nearby islands can be seen or our stunning sunsets can be viewed.
The dive deck is covered to protect you and your gear from the intense tropical sunshine. The deck is organized by a hanging rack system to ensure that your gear is dry before you fly and can accommodate large groups in an organized fashion. Large rinse tanks for dive gear, showers, and separate camera rinse tanks all help to move things along quickly and efficiently.
Valet style diving has never been easier. Our crew will carry your gear from the office to the dive deck. Once your gear is set our crew will handle the rest. Loading and unloading the boats, tanks, cameras and anything else needed to make the dives complete
Our "clean air" system ensure's the cleanest air is pumped into our tanks from our Nitrox machine. Our standard dive packages include nitrox for your safety and longer bottom times.
A map of the dive sites helps to familiarize our guests with respect to location, destination and dive sites. 
Banca Boats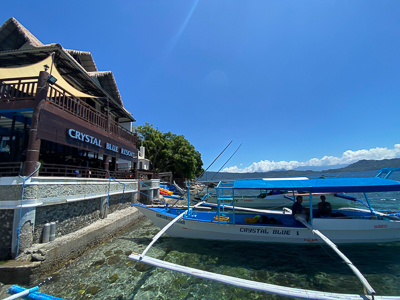 The duel outrigger style Banca boat is unique to the Philippines. Originally constructed for fishing in open ocean, the Banca was adapted for diving and offers the speed and agility needed to navigate the often unpredictable waters. Our boats offer plenty of shade from the sun and protection from inclement weather with enough space for cameras, plenty of tanks and of course, dive buddies!.